Garage Door Service in Coral Springs
CT Garage Door offers expert garage door installation and repair services in Coral Springs. Our technicians handle a variety of tasks, including spring replacement, automatic opener fixes, and routine maintenance. We specialise in adapting doors for the unique coastal weather, ensuring durability and functionality. Whether it's a sleek, modern design or a classic, sturdy build, we cater to all garage door needs with precision and care.
Same Day Service

Professional Team

Honest and Reliable
Mobile Service
Fast Response
24/7 Emergency Service
Competitive Price
Guaranteed Satisfaction
Coral Springs

Garage Door Installation & Repair
Choosing CT Garage Door for your residential and commercial garage door needs in Coral Springs means selecting a service that understands the nuances of local homes and their specific requirements. Specializing in residential garage doors, our team brings a wealth of knowledge about different types of doors – from the classic carriage style to modern roll-ups – and the unique challenges each presents. We are well-versed in the intricacies of various door components like springs, openers, and tracks, ensuring we can pinpoint and address any issue efficiently. Understanding the unpredictability of garage door issues, we offer 24/7 availability, ensuring we're there for you whenever you need us.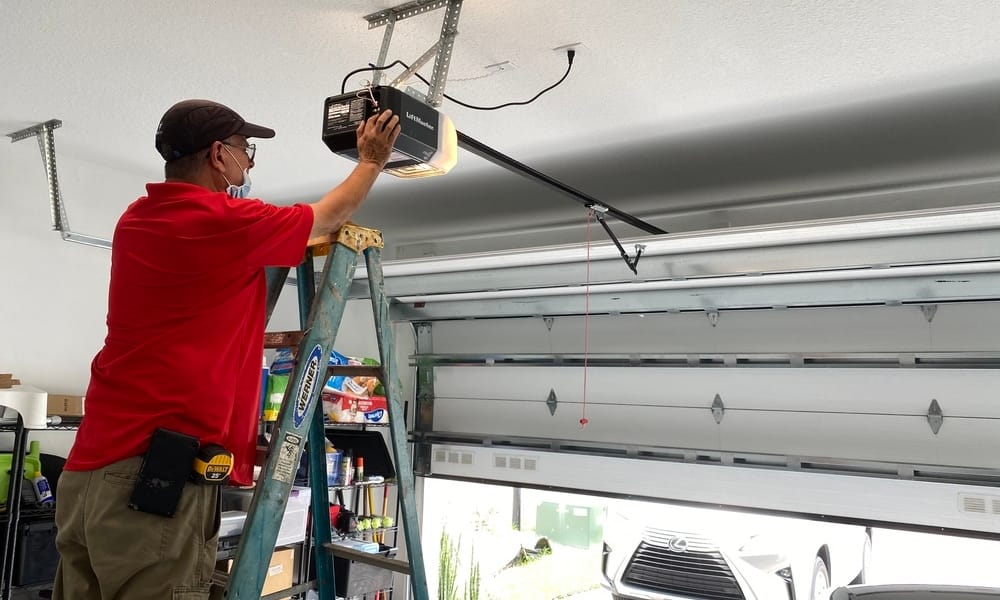 Our approach focuses on providing tailored solutions, considering Coral Springs' climate and aesthetic preferences. Whether it's a routine maintenance check, an intricate repair, or a full installation, our skilled technicians execute each task with precision and care. Our commitment to using only high-quality materials guarantees that your garage door will not only function flawlessly but also enhance your home's curb appeal.
Coral Springs

GARAGE DOOR SERVICES
We specialize in providing comprehensive garage door services in Coral Springs. Our team expertly handles everything from installation to repairs, catering to various door types to suit the unique coastal climate. We understand how weather fluctuations in Coral Springs can impact your garage door's functionality and longevity. Our solutions are tailored to ensure your garage door withstands these conditions, maintaining its efficiency and aesthetic appeal. With CT Garage Door, expect reliable service and industry knowledge, ensuring your garage door needs are met with professionalism and expertiseW
Garage Door Spring Replacement In Coral Springs
In Coral Springs, CT Garage Door offers specialized garage door spring replacement services. Springs are crucial for smooth operation, and our team understands the nuances of coastal weather impacts on these components. We provide swift, effective replacements using high-quality springs tailored to withstand the local climate. Our approach ensures your garage door operates reliably, reducing wear and tear. With our expertise, residents of Coral Springs receive a service that not only fixes their immediate issues but also prolongs the lifespan and performance of their garage doors.
Garage Door Installation In Coral Springs
CT Garage Door excels in garage door installation, serving Coral Springs with precision and care. We offer a diverse range of door styles and materials, each selected for durability and suitability to the local climate. Our installation process is meticulous, ensuring each door is fitted perfectly for optimal functionality and aesthetic appeal. We understand that a garage door is more than just an entry point; it's an integral part of your home's security and curb appeal. Our team works diligently to install doors that enhance your home's value and provide lasting, dependable service. Choose us for installations that blend quality, style, and efficiency.
Garage Door Repair In Coral Springs
CT Garage Door is your go-to expert for garage door repair in Coral Springs. We tackle a wide array of issues, from minor malfunctions to significant damages. Our team is equipped to handle repairs on all types of garage doors, ensuring each job is done with utmost precision and effectiveness. We understand the urgency of repair needs and respond promptly to restore your garage door's functionality. Our repair services are designed to address the challenges posed by Coral Springs' unique weather conditions, ensuring your door remains reliable and secure. Trust us to deliver thorough, efficient repairs that stand the test of time.
Garage Door Opener Installation In Coral Springs
In Coral Springs, CT Garage Door provides expert garage door opener installation services. A garage door opener is a key component for convenience and security. Our team is skilled in installing a wide range of openers, from basic models to advanced systems with features like Wi-Fi connectivity and remote access. We ensure that each installation is tailored to the specific needs and preferences of our clients, considering factors like door size, usage frequency, and security requirements. Our installations are conducted with precision and care, guaranteeing seamless operation and enhancing the overall functionality of your garage door system.
Garage Door Cables Replacement In Coral Springs
CT Garage Door offers proficient garage door cables replacement services in Coral Springs. The cables of a garage door are essential for its safe and efficient operation. Over time, these cables can wear or fray, posing a risk to both functionality and safety. Our team specializes in identifying and resolving such issues, providing high-quality cable replacements that restore the integrity and reliability of your garage door. We focus on using durable materials that can withstand the local climate, ensuring long-term performance. Our service is marked by attention to detail and commitment to safety, ensuring your garage door operates smoothly and securely.
Garage Door Maintenance In Coral Springs
Regular maintenance is key to the longevity of your garage door, and CT Garage Door offers comprehensive maintenance services in Coral Springs. Our maintenance program includes thorough inspections, lubrication, tightening of components, and minor adjustments as needed. This proactive approach helps in identifying and rectifying potential issues before they escalate into costly repairs. Our maintenance services are designed to keep your garage door operating at its best, ensuring smooth, quiet, and reliable performance. We cater to all types of garage doors, applying our expertise to extend their lifespan and maintain their efficiency, which is especially crucial in the varying Coral Springs climate.
Commercial Garage Doors In Coral Springs
CT Garage Door also specializes in commercial garage doors in Coral Springs, offering solutions that meet the unique needs of businesses. Commercial garage doors require robust construction and functionality to handle the higher demands of commercial use. Our range includes options that cater to various business requirements, from heavy-duty steel doors for enhanced security to insulated doors for energy efficiency. We understand the importance of a reliable commercial garage door for business operations. Therefore, our team ensures swift and efficient installation, repair, and maintenance services.
"I recently had a new garage door installed by C.T. Garage Door, and I couldn't be happier. The installation process was quick and easy, and the team was incredibly helpful."
"Amazing service! C.T. Garage Door replaced my garage door spring quickly and professionally. I was impressed by their expertise and attention to detail. Highly recommend!"
"Fast, reliable, and professional service from C.T. Garage Door. They installed our new commercial garage door and it's been working flawlessly ever since. Highly recommend!"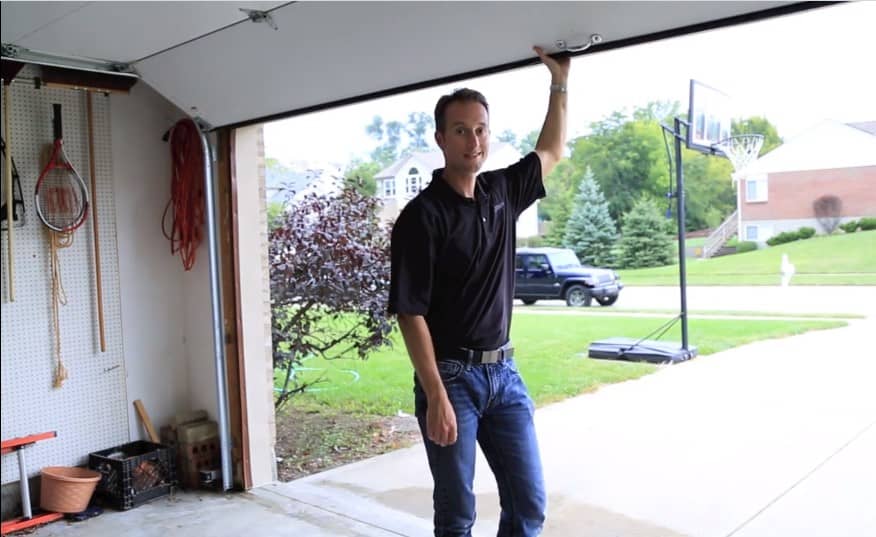 What Client Says About C.T Garage Door
C.T. Garage Door, your one-stop-shop for all your garage door repair, installation, and maintenance needs.
Check out our customer reviews and see for yourself why C.T. Garage Door is the go-to choice for garage door services in the Palm Beach County area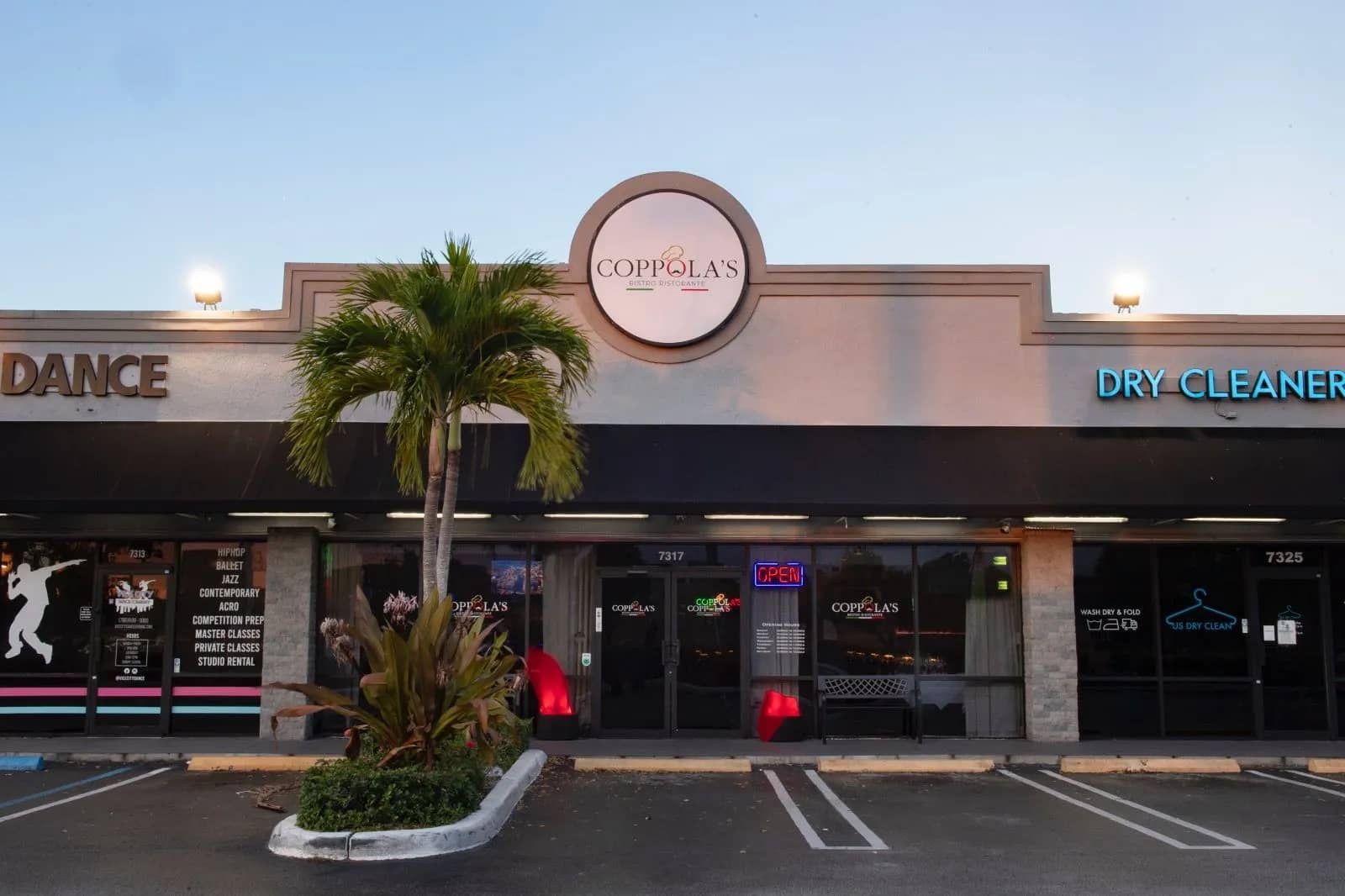 DINING TIP in Coral Springs
Coppola's Bistro Ristorante
Coral Springs, a vibrant city in Florida, boasts a rich tapestry of culinary delights, among which Coppola's Bistro Ristorante stands out as a distinguished destination for Italian cuisine. Surrounded by the city's lush landscapes and thriving community, Coppola's offers a slice of Italy with its authentic array of pasta, risotto, and finely prepared meats, complemented by a selection of fine wines. The restaurant's atmosphere is enlivened with live music, encapsulating the spirit of Italian dining. It's a place where both locals and visitors gather to savor the rich flavors and enjoy the welcoming ambiance. Coppola's Bistro Ristorante has become a cherished part of Coral Springs, reflecting the city's diverse cultural fabric and its penchant for fine dining experiences.
A transparent, no-obligation pricing quote before any work is done. We only recommends what you need, ensuring a fair and honest assessment of the necessary services.