When you're in Boynton Beach and your garage door starts acting up, it's not just a minor inconvenience; it can throw your whole day off track. Imagine this: you're ready to head out, and suddenly, your garage door won't budge. Or worse, it's making a sound like it's trying to audition for a horror movie. This is where the importance of choosing the right garage door repair service comes into play. You need a team that not only understands the nuts and bolts of the job but also values your time and safety. It's not just about fixing what's broken; it's about restoring your peace of mind.
Now, you might think, "Can't I just handle this on my own?" Sure, there are DIY options out there, but when it comes to complex mechanisms like a garage door opener, professional expertise is crucial. This is especially true for garage door opener repair in Boynton Beach, where the salty sea air can add a unique twist to the wear and tear of your garage doors. You need a service that not only responds swiftly but also has a deep understanding of the local climate's impact on garage mechanics. A good repair service isn't just a quick fix; it's a guardian of your home's functionality and safety.
Evaluating Local Garage Door Repair Services: What to Look For
Choosing a garage door repair service in Boynton Beach requires careful consideration. Your garage door is a vital part of your home, providing security and convenience, and when it needs repair, you can't afford to make a hasty decision. Here's what to look for to ensure you pick the best service for your needs.
1. Reputation and Reviews: Start by checking the reputation of local garage door repair services. Look for companies with positive reviews and high ratings. Pay special attention to reviews mentioning garage door opener repair in Boynton Beach. This will give you an idea of the company's expertise in handling the specific challenges of the area. You can find these reviews on their website, social media platforms, and third-party review sites.
2. Experience and Expertise: The best garage door repair services have years of experience under their belts. This experience is invaluable when dealing with a range of issues, from simple repairs to complex installations. Ask about their experience specifically with garage door repair options in Boynton Beach. Familiarity with local weather conditions and how they affect garage doors can be a significant advantage.
3. Service Range: A good garage door repair service should offer a comprehensive range of services. This includes not only basic repairs but also servicing of different types of garage doors and openers. Whether you need a minor fix or a complete replacement, they should be able to handle it. Ask if they provide 24/7 garage door services, as emergencies can happen at any time.
4. Cost and Transparency: When evaluating garage door service selection, consider their pricing structure. The best garage door repair services offer competitive pricing without compromising on quality. They should provide clear, upfront estimates without any hidden fees. Be wary of services that offer extremely low prices, as this can sometimes be a sign of subpar work.
5. Customer Service: Excellent customer service is a hallmark of a reputable garage door repair company. They should be responsive, courteous, and willing to answer all your questions. A company that values its customers will make the repair process smooth and hassle-free.
6. Warranties and Guarantees: Look for services that offer warranties or guarantees on their work. This shows they are confident in their skills and are willing to stand behind their work. A warranty can also provide peace of mind, knowing that if something goes wrong, you're covered.
When looking for garage door services in Boynton Beach, consider their reputation, experience, range of services, pricing transparency, customer service, and the warranties they offer. This comprehensive approach will help you find a service that not only meets your immediate repair needs but also ensures long-term satisfaction and security for your home.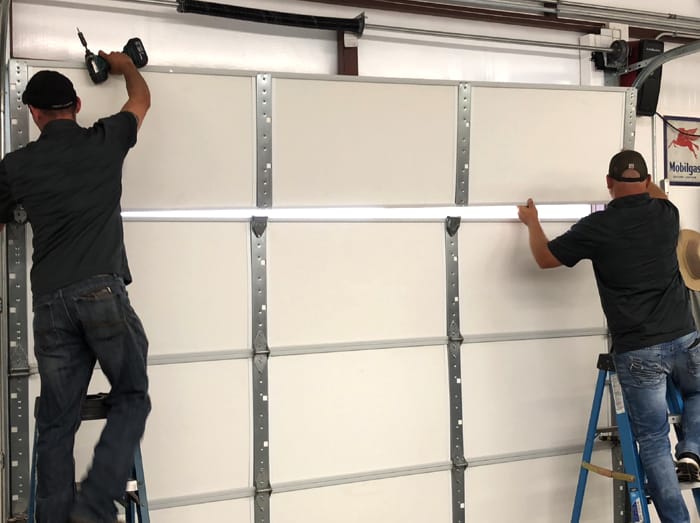 Understanding Pricing and Service Options in Boynton Beach
Navigating the landscape of garage door repair services in Boynton Beach can be overwhelming, especially when it comes to understanding pricing and service options. To make an informed decision, you need to grasp the factors that influence the cost and the variety of services available. Let's break these down for a clearer understanding.
1. Factors Influencing Pricing: The cost of garage door repair services can vary widely based on several factors. The type of repair needed is a primary determinant – a simple alignment issue will cost less than a full garage door opener repair in Boynton Beach. The model and make of your garage door also play a role; some brands or types of doors may require specific parts or expertise, potentially increasing the cost. Additionally, emergency services or calls outside of standard business hours, such as 24/7 garage door services, may carry a premium.
2. Service Options Available: Garage door repair services in Boynton Beach offer a range of options. Basic services include fixing or replacing springs, cables, rollers, and panels. More complex services may involve repairing or replacing the garage door opener. It's important to select a service provider who has experience with the specific type of repair you need, as this ensures a more efficient and effective resolution.
3. Getting Quotes: To better understand pricing, it's advisable to obtain quotes from multiple providers. This will not only give you an idea of the average cost but also allow you to compare the scope of services offered. Look for detailed quotes that break down the cost of parts and labor. This transparency is crucial in avoiding unexpected charges.
4. Quality vs. Cost: While it's tempting to go for the cheapest option, remember that quality should not be compromised. The best garage door repair in Boynton Beach may not always be the cheapest but investing in high-quality repairs can save you money in the long run by reducing the need for frequent fixes.
5. Warranty and Guarantees: Consider services that offer warranties or guarantees on their work. This can be a sign of a reputable provider who is confident in their quality of service. Warranties also provide you with protection should the repair not be as durable as expected.
Understanding the pricing and service options for garage door repair in Boynton Beach requires considering the type of repair needed, comparing quotes from various providers, and balancing cost against quality. By doing your homework and asking the right questions, you can ensure you get the best value for your investment, keeping your garage door functioning smoothly and securely.
Customer Reviews and Recommendations: Making an Informed Decision
When it comes to selecting a garage door repair service in Boynton Beach, customer reviews and recommendations are invaluable tools. They offer real-world insights into a company's reliability, quality of work, and customer service. Navigating through these reviews can be a game-changer in making an informed decision. Here's how you can use customer feedback to your advantage.
1. Authenticity of Reviews: First and foremost, ensure the reviews you're reading are authentic. Look for reviews across various platforms like the company's website, social media, and third-party sites. Genuine reviews often provide specific details about the customer's experience, including aspects like timeliness, professionalism, and communication. For instance, mentions of "garage door opener repair in Boynton Beach" can indicate the company's expertise in this specific service.
2. Consistency in Feedback: Consistency is key when evaluating reviews. If the majority of customers are praising the company for its prompt and quality service, it's a good sign. However, if you notice a pattern of complaints, such as issues with customer service or hidden costs, these are red flags. Remember, no company is perfect, but a trend of positive feedback is a strong indicator of reliability.
3. Responses to Reviews: Pay attention to how the company responds to reviews, especially the negative ones. A professional garage door repair service will respond constructively to criticism and show a willingness to resolve any issues. This level of engagement demonstrates their commitment to customer satisfaction.
4. Personal Recommendations: Besides online reviews, personal recommendations from friends, family, or neighbors can be highly trustworthy. If someone you know had a positive experience with a garage door repair company in Boynton Beach, it's worth considering their recommendation. They can provide honest feedback and details about their experience.
5. Reviewing Specific Services: When reading reviews, look for mentions of the specific services you need, such as "garage door repair options in Boynton Beach" or "24/7 garage door services." This can give you a better idea of the company's expertise in those particular areas.
6. Analyzing Service Complaints: If there are complaints, analyze what they are about. Are they related to the quality of repair, customer service, or pricing? Understanding the nature of the complaints can help you determine if they are deal-breakers for you.
Customer reviews and personal recommendations are critical components in choosing the right garage door repair service. They provide an unfiltered glimpse into the company's operations and customer satisfaction levels. By carefully evaluating this feedback, you can make a choice that ensures the safety, efficiency, and longevity of your garage door repair needs in Boynton Beach.
Conclusion
In conclusion, when it comes to garage door repair and maintenance in Boynton Beach, the choice is clear with C.T Garage Door. Whether you need urgent assistance with your garage door opener or a complete overhaul of your garage system, our team at C.T Garage Door is equipped with the expertise, experience, and tools to handle every challenge.
We take pride in our work and are committed to delivering top-notch service, underscored by our strong customer reviews and consistent performance. From offering 24/7 emergency services to ensuring transparent pricing, we strive to meet and exceed your expectations. Remember, the safety and functionality of your garage door are paramount, and at C.T Garage Door, we're here to ensure that your garage door is always in its best condition.
Frequently Asked Questions
What should I do if my garage door opener stops working?
First, check the basics like power supply and batteries in the remote. If the problem persists, contact a professional for garage door opener repair in Boynton Beach to diagnose and fix the issue.
How often should I have my garage door serviced?
Regular maintenance is key to prolonging the life of your garage door. Ideally, have it serviced annually by a professional to ensure everything is in working order.
Can I repair my garage door by myself?
While some minor issues can be a DIY fix, complex tasks, especially those involving garage door openers, should be handled by professionals to ensure safety and proper functionality.
What factors affect the cost of garage door repairs?
The cost can vary based on the type of repair, the model of your garage door, and whether you need regular or emergency services. Always get a detailed quote before proceeding with repairs.
How do I choose the best garage door service?
Look for a service with positive reviews, transparent pricing, a range of offered services, and a good track record. Ensure they have experience with garage door repair options in Boynton Beach.